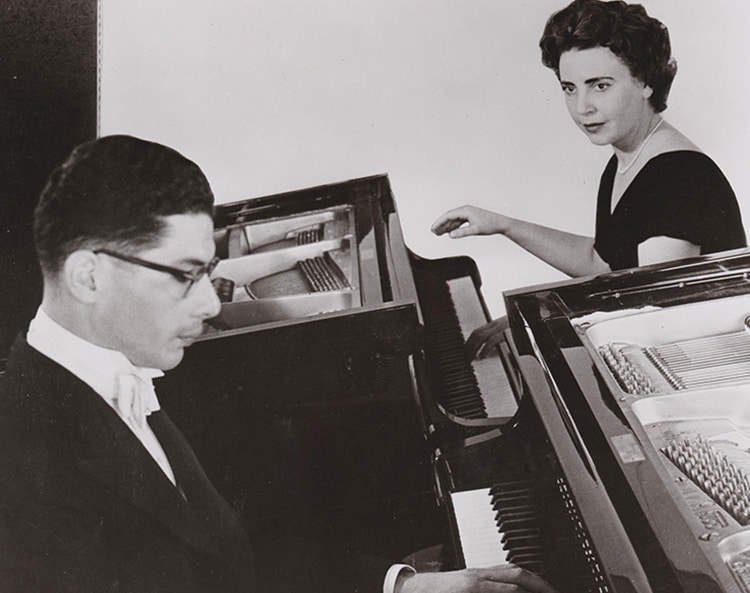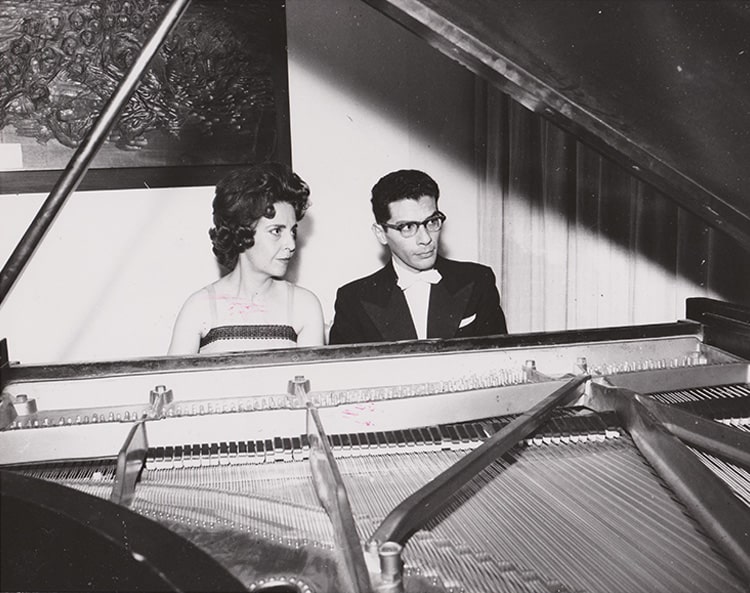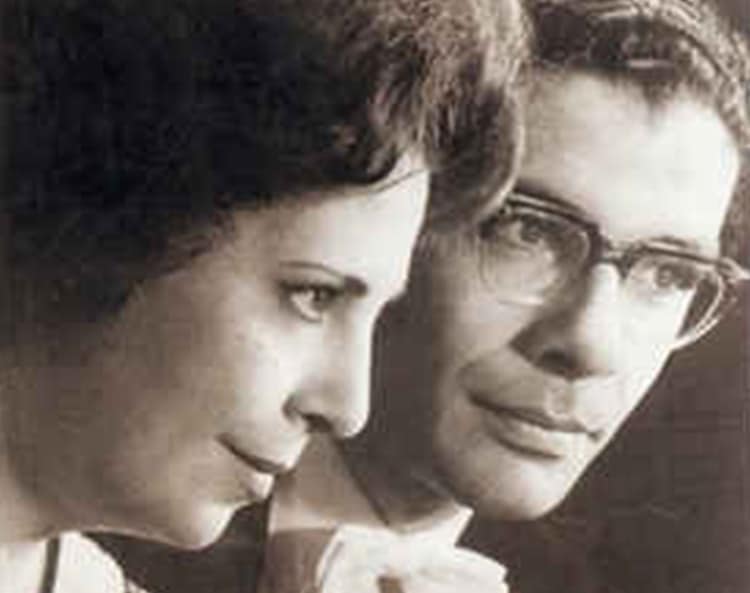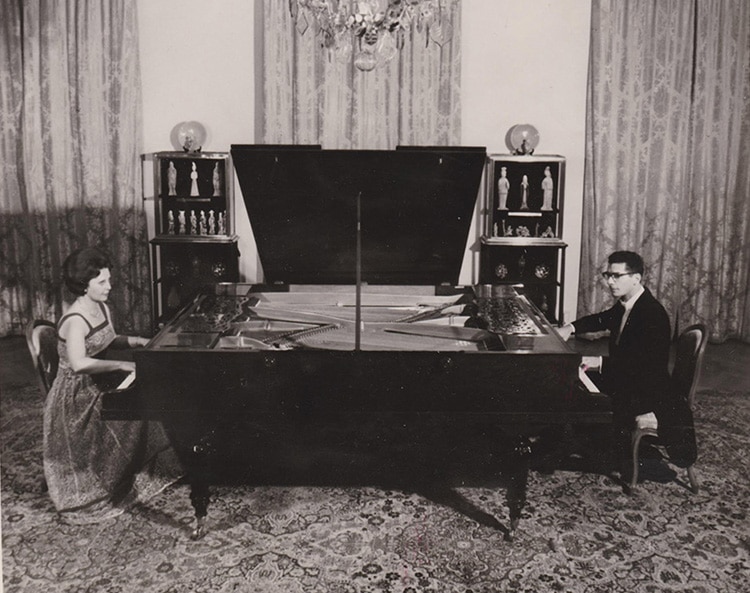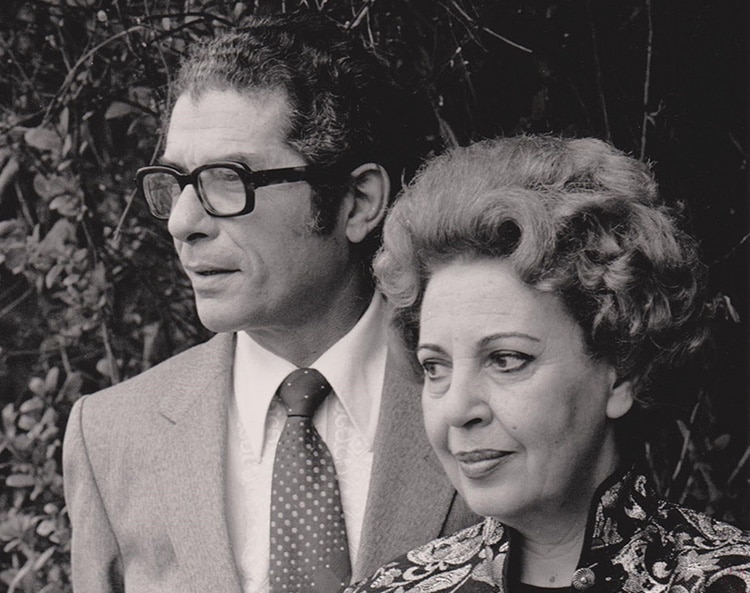 The world-famous piano duo Eden and Tamir, performed for more than 50 years and gave between 1955-2006 over 5000 performances. as soloists with orchestras, in recitals, on television and radio and in various festivals. Bracha and Alexander met in 1951 as students of Prof. Alfred Schroeder at the New Jerusalem Conservatory (now the Jerusalem Academy of Music and Dance). Their teacher was the one who encouraged them to play together, just as Artur Schnabel had with his student-assistant Alfred Schroeder.  In 1955 the Eden-Tamir duo received a scholarship to participate at the Aspen Festival and study with Vronsky and Babin. Two years later they won the first prize in the Vercelli Duo Competition in Italy. In 1958 the duo participated in "The Ed Sullivan of Israeli Stars" which was organized by Ed Sullivan, an American television star. Among the talents that participated in the show was also a 13-year-old violinist – Itzhak Perlman. From then on Eden-Tamir Duo became a success story.
אודות
צמד הפסנתרנים ברכה עדן ואלכסנדר תמיר נפגשו באקדמיה ע"ש רובין בירושלים, שם למדו. בעידודו של מורם, פרופ' אלפרד שרדר, תלמידו של ארתור שנאבל, החלו לנגן יחד. הדואו הוקם בשנת 1955 ומאז במשך יותר מ- 50 שנה ניגנו והופיעו רבות בישראל ומחוצה לה, בנוסף לעיסוקיהם המרובים בתחום המוזיקה הקלאסית עד מותה של ברכה עדן בשנת 2006.
הדואו הותיר חותם בעולם המוזיקה בישראל ומחוצה לה. הם למדו בארצות הברית אצל הדואו המפורסם ורונסקי ובבין, זכו בתחרות ורצ'לי שבאיטליה לדואו פסנתרנים, הופיעו באולמות רבים ברחבי העולם, וניגנו יצירות לשני פסנתרנים ויצירות לפסנתר ב-4 ידיים של גדולי המלחינים.
הצמד ביצע הקלטות רבות בישראל ומחוצה לה, בעיקר בחברת דקה ובחברת CRD. ובין הקלטותיהם המפורסמות: יצירות של ברהמס, דביסי וראוול, ופרויקט הכולל 8 דיסקים מיצירות לפסנתר ב-4 ידיים של המלחין פרנץ שוברט.
בין התזמורות איתן הופיעו: התזמורת הפילהרמונית הישראלית, התזמורת הסימפונית של ה-BBC, התזמורת הסימפונית של לונדון, התזמורת הקאמרית של לוס אנג'לס, התזמורת של רדיו המבורג והתזמורת הפילהרמונית של ורשה.
במהלך שנות ה-60 הם נהפכו לפרופסורים מן המניין באקדמיה ע"ש רובין בירושלים. אלכסנדר אף כיהן כדקאן, וברכה כראש החוג לכלי מקלדת.
יחד הקימו בשנת 1968 את מרכז "מרכז טארג למוזיקה קאמרית" בעין כרם. עם השנים שונה שמו למרכז עדן-תמיר למוזיקה. הם הקימו תחרות לאמנים צעירים, ואת אגודת שופן בישראל.
במהלך שנות ה-90 הם יצאו את ישראל באופן תכוף לכיתות אמן והופעות בסין, רוסיה, פולין ומדינות אחרות.
הדואו ביצע את הבכורה האמריקנית ל"ואריאציות פגניני" (1955) מאת המלחין הפולני ויטולד לוטוסלבסקי, ובנוסף הם היו מהמבצעים הראשונים ומהמקליטים הראשונים של הגרסה לשני פסנתרים של פולחן האביב, בהמלצתו של סטרווינסקי בעצמו ובשיתוף פעולה עמו.
הם גם הקליטו את מכלול הסימפוניות של ברהמס בגירסת המלחין לשני פסנתרים.
EdenTamir
Orchestras
Conductors
Festivals
Bracha Eden
Alexander Tamir